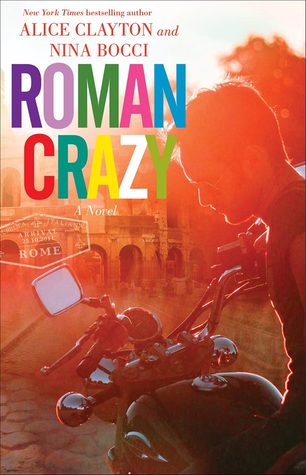 ROMAN CRAZY
By Alice Clayton and Nina Bocci
A delicious, sexy, laugh-out-loud modern romance about a newly single woman and her journey to find love again in ROMAN CRAZY from New York Times bestselling author Alice Clayton and debut author Nina Bocci (Gallery Books; on sale September 13, 2016; Trade Paperback $16.00).
Avery Bardot steps off the plane in Rome, looking for a fresh start. She's left behind a soon-to-be ex-husband in Boston and plans to spend the summer with her best friend Daisy, licking her wounds—and perhaps a gelato or two. But when her American-expat friend throws her a welcome party on her first night, Avery's thrown for a loop when she sees a man she never thought she'd see again: Italian architect Marcello Bianchi.
Marcello was the man—the one who got away. And now her past is colliding with her present, a present where she should be mourning the loss of her marriage and—hey, that fettuccine is delicious! And so is Marcello…
Slipping easily into the good life of summertime in Rome, Avery spends her days exploring a city that makes art historians swoon, and her nights swooning over her unexpected what was old is new again romance. It's heady, it's fevered, it's wanton, and it's crazy. But could this really be her new life? Or is it just a temporary reprieve before returning to the land of twin-set cardigans and crustless sandwiches?
A celebration of great friendship, passionate romance, and wonderful food, Roman Crazy is a lighthearted story of second chances and living life to the fullest.
4 STARS
Roman Crazy came to me at exactly the moment that I needed it! School has started, vacation is over, days are rushed. It allowed me to sit back, relax, and become immersed in a book that was like a vacation for my mind.
I loved Avery. Spunky, not afraid of finding herself – I really wish that I could be more like her sometimes. Well, minus the husband cheating thing, but I digress. I admire the way that she was able to pick herself up and basically reinvent her life.
Marcello, oh Marcello. He was the perfect Italian lover for Miss Avery. Smoldering, kind, and completely smitten with her, he was the perfect person to pick up the pieces of her heart and help her move on. It certainly didn't hurt that he is sexy as you-know-what 🙂
I really enjoyed Nina and Alice's compilation. They seem to be able to work a story together to bring it to its fullest potential. If you are a die-hard Alice fan, you will definitely enjoy it. No worries about a cliffhanger, this is a standalone so dive right in and enjoy!!!!