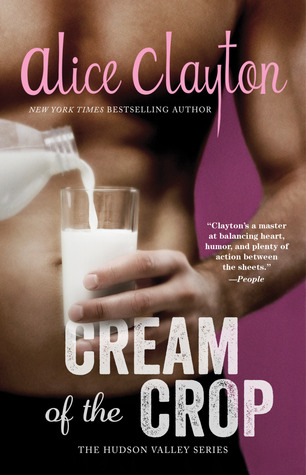 New York Times and USA TODAY bestselling author Alice Clayton brings her trademark blend of funny and sexy to this second contemporary romance in the brand-new Hudson Valley series!
Manhattan's It Girl, Natalie Grayson, has it all: she's a hot exec at a leading advertising firm, known industry-wide for her challenging and edgy campaigns. She's got a large circle of friends, a family that loves her dearly, and her dance card is always full with handsome eligible bachelors. What else could a modern gal-about-town wish for? The answer, of course, is…cheese.
Natalie's favorite part of each week is spending Saturday morning at the Union Square Farmer's Market, where she indulges her love of all things triple cream. Her favorite booth also indulges her love of all things handsome. Oscar Mendoza, owner of the Bailey Falls Creamery and purveyor of the finest artisanal cheeses the Hudson Valley has to offer, is tall, dark, mysterious, and a bit oblivious. Or so she thinks. But that doesn't stop Natalie from fantasizing about the size of his, ahem, milk can.
Romance is churning, passion is burning, and something incredible is rising to the top. Could it be…love?
5 STARS
Natalie is Alice Clayton's best character yet. Spunky, fun, comfortable in her own skin, she is everything. Mix this with Oscar's serious but sexy side and you have a combustible pairing that will keep you hooked!
We first met Oscar and Natalie in brief glimpses in Nuts (Roxy and Leo's story). Oscar intrigued me as Leo's friend so I was really looking forward to learning more about him. Let me tell you, I wasn't disappointed. Next to Simon, Oscar is my favorite Clayton hottie.
Cream of the Crop was funny and a love story, but more then that, it was a celebration of being comfortable in your own skin. Natalie never changed, never wavered from who she was, never changed herself for love. She was apologetically Natalie. She was not the size 4/6 heroine that we see in most romance novels. Size 18 was where she began and where she stayed in all of her cheese loving glory. This is one of the reasons I adore Alice Clayton. She writes characters that might be a friend, a neighbor, or even you. What could be better then reading a book where you can actually identify with the characters? NOTHING.
In case you didn't realize it yet, I am fully recommending Cream of the Crop 100%. Buy it, laugh, and love it – I know you will 🙂