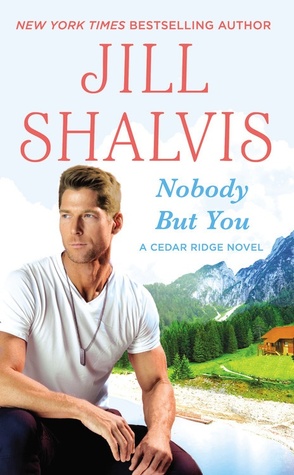 SOMETIMES YOU CAN GO HOME AGAIN…
After an overseas mission goes wrong, Army Special Forces officer Jacob Kincaid knows where he must go to make things right: back home to the tiny town of Cedar Ridge, Colorado. All he needs to scrub away his painful past is fresh mountain air, a lakeside cabin, and quiet solitude. But what he discovers is a gorgeous woman living on a boat at his dock.
Sophie Marren has nowhere else to go. She's broke, intermittently seasick, and fighting a serious attraction to the brooding, dishy, I'm-too-sexy-for-myself guy who's now claiming her dock. Something about Jacob's dark intensity makes her want to tease—and tempt—him beyond measure. Neither one wants to give any ground . . . until they realize the only true home they have is with each other.
4 STARS
Nobody But You, is the third book in the Cedar Ridge series but I had no problem reading it as a stand-alone novel. Right away I fell in love with Jacob – well, I do have a little thing for Army men – and Sophie who is quirky and fun even though she is a real hot mess. This story had it all, by being sweet and sexy with a dash of drama. I really enjoyed the author's writing style, just like the story, it was simple and easygoing kind of read.