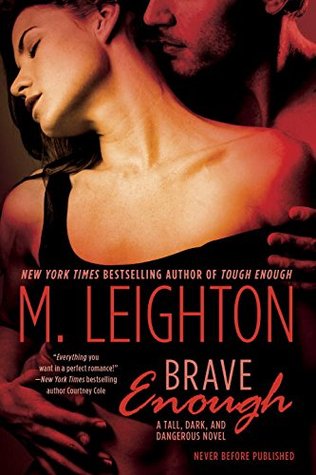 From the author of the New York Times bestselling Bad Boys novels comes another dark, sexy story…
 
Is she brave enough to give her heart to a man she only thought she knew?
He was the most charismatic man I'd ever met. Strong, tough, brave. Bold as hell. Something told me Tag Barton could have anything—anyone—he wanted…and he wanted me. It didn't matter that he was wrong for me in practically every way possible. It didn't matter that my father would hate it.
I couldn't resist him. Even if I'd known who he really was and what he was really capable of.
When he suggested we pretend to be engaged, I thought he was the answer to all my problems. He wasn't. And, in his wake, he left nothing but scorched earth and me, just another casualty of my father's war.
Can I believe him now when he tells me he loves me?  Or is he nothing more than a beautiful, breathtaking lie?
3.5 STARS
Brave Enough has been really hard for me to rate. I've been thinking about this for a while, struggling internally. While I enjoyed the book, it didn't really seem to fit with the rest of the series. I expected more of Tag's story and this was not what I expected nor does it seem on par with the other books. The romance was good, I liked the plot, the characters were enjoyable, but I truly felt like something was missing.
Tag and Weatherly are a good pairing – strong, sexy ex-special forces meets tough, heiress. I loved her spunk and his dirty mouth. I don't know….I just needed something more from them and I am not sure what. Normally when I read Michelle's books the pages fly by, but Brave Enough didn't draw me in quite as much as I hoped.
I am giving it 3.5 Stars based on the fact that it was a good book, truly. I am not a harsh rater and refuse to be unkind in a review. I also refuse to be dishonest. Just because it was not my favorite book in the series, doesn't mean anything. Reading is subjective. I have loved all of Michelle's other books and I plan to read all her new ones!