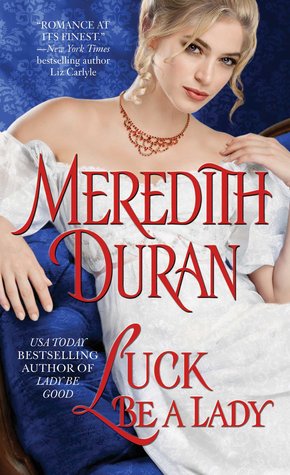 "This flawless novel in the Rules for the Reckless series, set in 1866 London, pivots seamlessly to Catherine Everleigh and Nick O'Shea, lively characters who won readers' hearts in Lady Be Good…These intelligent, multilayered characters embody the best aspects of this wonderfully indulgent series."
—Publishers Weekly STARRED REVIEW for Luck Be A Lady
"Hot on the heels of Lady Be Good comes Catherine Everleigh's story, and readers know they'll be in for a fun, sexy and poignant roller coaster ride. Well paced, simmering with sexual tension and peopled with memorable characters, this is a love story to be savored."
—RT Book Reviews gives TOP PICK HOT REVIEW for Luck Be A Lady
—The 2015 RITA Award for Historical Romance has been awarded to FOOL ME TWICE, 2nd in the Rules for the Reckless series by Meredith Duran!
LUCK BE A LADY
Rules for the Reckless #4
Meredith Duran
August 25, 2015
Pocket Books
ISBN: 9781476741369
$7.99
ABOUT LUCK BE A LADY:
LUCK BE A LADY in this fourth sexy novel in the Rules for the Reckless series!
THE WALLFLOWER
They call her the "Ice Queen." Catherine Everleigh is London's loveliest heiress, but a bitter lesson in heartbreak has taught her to keep to herself. All she wants is her birthright—the auction house that was stolen from her. To win this war, she'll need a powerful ally. Who better than infamous and merciless crime lord Nicholas O'Shea? A marriage of convenience will no doubt serve them both.
THE CRIME LORD
Having conquered the city's underworld, Nick seeks a new challenge. Marrying Catherine will give him the appearance of legitimacy—and access to her world of the law-abiding elite. No one needs to know he's coveted Catherine for a year now—their arrangement is strictly business, free from the troubling weaknesses of love. Seduction, however, is a different matter—an enticing game he means to ensure she enjoys, whether she wishes to or not…
4 STARS
        It has been a long time since I have read historical fiction. I don't know why, but Luck Be a Lady was a great refresher of why I love the genre. Gentile ladies, handsome cads, epic locales, gentlemen and sinners, all come together in a wonderfully written book. Historical fiction can be poetic; the descriptions abundantly beautiful transporting the reader to a different time where life was slower, words richer, people more refined. But it also represents a time of bad economics, little education, and harsh life lessons for those more unfortunate. I am always intrigued by a book that represents both sides of the times back then, which Luck Be a Lady certainly does.
        The story of Catherine and Nick explores both sides of the coin. Catherine a well-bred invert, struggling to find her place as a woman in her family's auction house. She is considered an "ice queen" by many for her lack of interest in marrying off. She loves what she knows and that is the auction house and it's history and contents. Nick is a crime lord with a heart of gold from the wrong side of town. He has always had to fight for what he wants – right now, that is Catherine.
        I was surprised at how involved I became in Nick and Catherine's story. The author did an amazing job at keeping the story on-point and moving to conclusion. I truly enjoyed getting to know all of the characters and watching the love story between Nick and Catherine unfold. The sexual tension from the two made the pages sizzle. Meredith Duran has a new fan in me!!!
ABOUT THE AUTHOR:
MEREDITH DURAN is the author of eight previous novels, including The Duke of Shadows (winner of the Gather.com First Chapters Romance Writing Competition); Wicked Becomes You (included on the Woman's World List of Best Beach Reads for Summer 2010), and the USA TODAY bestseller Fool Me Twice. She blames Anne Boleyn for sparking her lifelong obsession with British history, and for convincing her that princely love is no prize if it doesn't come with a happily-ever-after. She enjoys collecting old etiquette manuals, guidebooks to nineteenth-century London, and travelogues by intrepid Victorian women. Visit her at MeredithDuran.com, or catch up with her on Twitter: @meredithduran and Facebook: AuthorMeredithDuran.
Buy buttons for Luck Be A Lady:
S&S: http://books.simonandschuster.com/Luck-Be-a-Lady/Meredith-Duran/Rules-for-the-Reckless/9781476741369
AMAZON: http://www.amazon.com/exec/obidos/ASIN/1476741360?tag=simonsayscom
B&N: http://www.barnesandnoble.com/w/luck-be-a-lady-meredith-duran/1120678886?ean=9781476741369&itm=1&usri=9781476741369&cm_mmc=AFFILIATES-_-Linkshare-_-PwUJvmDcu1U-_-10:1&r=1,%201
BAM: http://www.booksamillion.com/p/9781476741369
INDIEBOUND: http://www.indiebound.org/book/9781476741369
IBOOKSTORE (ebook): https://itunes.apple.com/us/book/luck-be-a-lady/id936198950?mt=11
KINDLE (ebook): http://www.amazon.com/gp/product/B00P434B80?ie=UTF8&camp=1789&creativeASIN=B00P434B80&linkCode=xm2&tag=simonsayscom
NOOK (ebook): http://www.barnesandnoble.com/w/luck-be-a-lady-meredith-duran/1120678886?ean=9781476741390&itm=1&usri=9781476741390&r=1
GOOGLE PLAY (ebook): https://play.google.com/store/search?q=9781476741390&c=books